[Overview]
[Weed catchers]
[Sugar beet washers]
[Stone washers]
[Beet prewash drum (Axle with tubular arms)]
[Falling film evaporators]
[Boilers]
[Additional products for the sugar industry]
SAND AND STONE
SEPARATORS
We have since 1970 supplied stone and sand separators for the sugar industry in Europe, USA and North Africa - until now we have delivered 86 units.
During the period the units have naturally been modified and improved to accommodate the demands for efficiency, operational reliability as well as minimizing the maintenance and noise emission.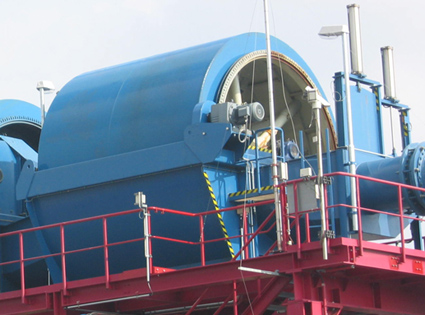 We always recommend the installation of at least 2 sand separators. This will ensure,
that a very large part of the
sand and stones are removed
and furthermore minimize the
loss of beets.
In order to reduce the noise
level the chutes, by which the stones are diverted, are gummed.
The power transmission on the
separator takes place through a
driving pinion system. This sys-tem is very efficient and reliable.
On extraordinarily strained positions the separator
is covered with HARDOX-steel.
The separator is sandblasted according to corrosion class 3 and painted in colour selected by the customer.
Please doubleclick on the start buttons below to activate the movie clips