[Overview]
[Sand- and stone separators]
[Sugar beet washers]
[Stone washers]
[Beet prewash drum (Axle with tubular arms)]
[Falling film evaporators]
[Boilers]
[Additional products for the sugar industry]
WEED CATCHERS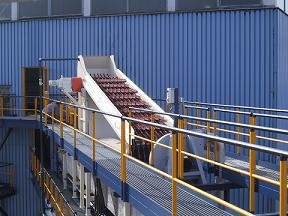 Our first weed catcher was delivered in 1972.
Since then substantial improvements - with focus on efficiency, reliability and minimal maintenance - has been implemented.
Hence our reference list amounts at present to 171
pieces.
The weed cathers are designed and supplied according to the factory capacity and are available
in many sizes.
We typically recommend 2 types of weed catcher, which are installed in continuation of each other. The one called "Type 4H" is equipped with 4 set of catch arms and is installed as the first in the process followed by a another weed catcher "Type 6H" with 6 catch arms. The Type 4H separator catches the main part of the grass, weed, plant stalks etc. in the water. The catch arms on the 6H weed cather, which has a longer residence time in the float channel, catches the remaining parts.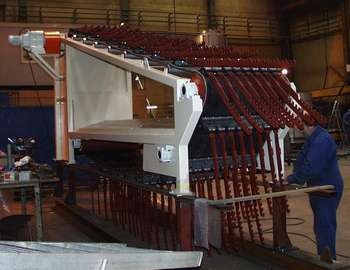 The advantage of this method is minimizing the risk, that the first separator is overburdened. In that case, the trash materiel on the potentially overfilled catch arms falls back in the water causing difficulties in the slicer.

In order to further improve the efficiency of the separation process we recommend to install a compressed air lifting system. This lifts the trash from the bottom of the float channel into the catch arms thus removing the trash which the arms cannot reach otherwise.



Some of the many advantages
of using our weed catchers:
The catch arms are mounted in durable and movable rubber gaskets. These gaskets are fastened in a conveyor i.e. no chains and axes that needs maintenance. The rubber gaskets are water proof, especially salt water.
The weed catcher generates no noise emissions.
The weed catcher is designed for working at temperatures below freezing without problems.
Please double click on the start button in the lower left corner below to open the movie-clip